HEAD OF CULINARY Sean Hall
The 6HEAD Head of Culinary Sean Hall started his journey growing up on his grandfather's cattle farm in Johannesburg, South Africa. There he learned the importance of looking after the animals, as well as how different beef raising and cooking techniques could impact the flavour of the meat.
Hall's passion for food saw him move to the UK where he completed his chef's apprenticeship at Langdale Estate, in the heart of the Lake District, Cumbria. Working under the guidance of esteemed chefs Graham Harrower and Neil Dixon saw him hone his culinary skills to include classically trained French preparation techniques.
Soon after completing his cooking qualification, Hall began working with the Jamie Oliver Group in the UK, where his personal ethos – source great produce, cook with classic techniques and let the produce do the talking – was very much at home.
Follow Chef Sean Hall and his personal journey with 6HEAD on Instagram @chefseanhall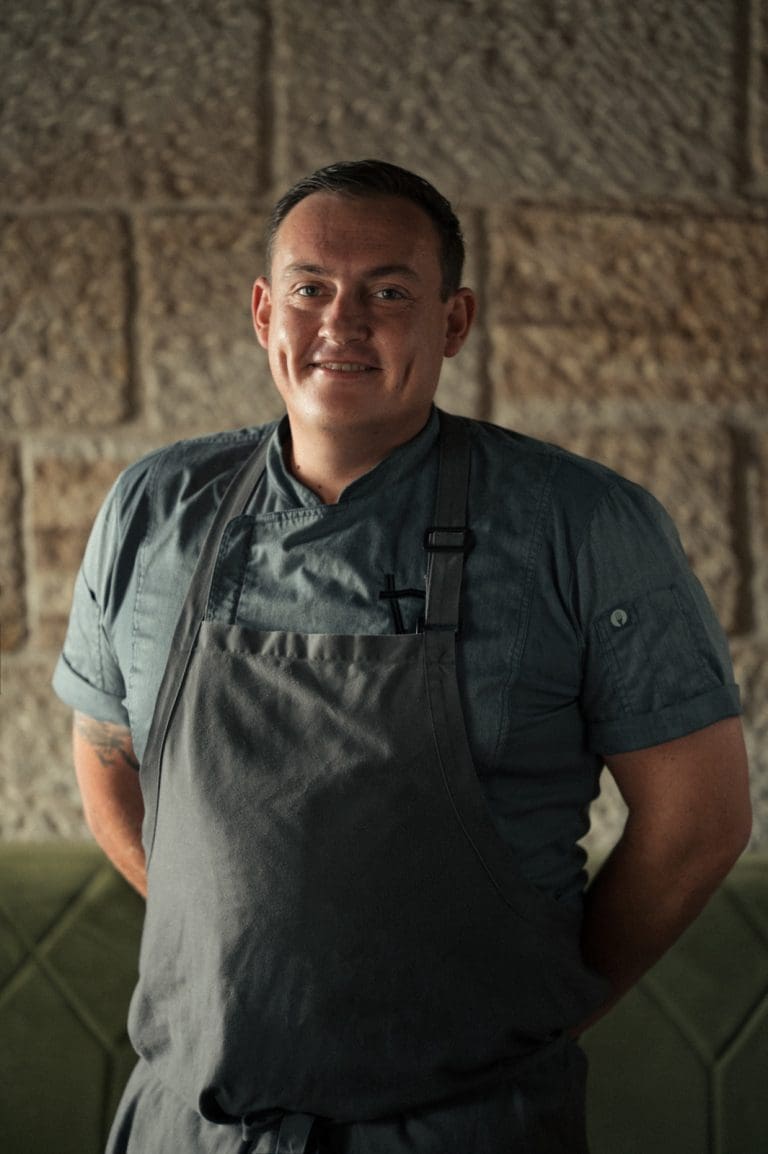 "
I always tell chefs in the kitchen they need to taste, taste, and taste – my first executive chef instilled that in me, and it will be with me forever
"
Now based in Sydney, Hall continues to innovate in the culinary space by incorporating new techniques, equipment, and ingredients to refine his dishes and menus. He finds inspiration from his peers, dining around the world, and simple trips to the farmer's market.
"I love visiting a farmers market with an empty basket and no expectations. I can find an equal amount of inspiration by watching international chefs in their element, getting creative."
Today, Hall's passion and expertise has secured his position as one of Australia's top chefs. It's this extensive experience, coupled with Australia's exceptional meat and produce, that makes our bespoke menu a beautiful complement to the 6HEAD ethos.
"I love the Sydney chef culture and movement – we are so spoiled for choice with the best meat, fish and great Aussie produce. I am passionate about combining ingredients to create dishes that will install a memory for years to come, combined with some theatre to create that everlasting memory.

Executive Head Chef Scott Greve
Much like Sean Hall, Executive Head Chef Scott Greve's passion for food was sparked at a young age by his grandfather.
His grandfather was a gamekeeper who taught Scott how to manage and love the land, giving him a deeper understanding of the full farm to plate process.
That's an ethos he carried with him when he began his first role in a fine dining restaurant in 2018. Here he learned the tools of the trade, from modern French techniques to how to properly prepare seafood.
Saying that the mark of a good chef is knowing how to butcher one's own meat, Scott went on to work in a butchery. Again he upskilled – this time learning about creatively using the trims of each cut to minimise waste, and to make authentic sausages.
He took all of his gathered skills and knowledge and spent some time working in Jamie Oliver's restaurant before finally making the move to 6HEAD.
As for inspiration, he says that there are many elements that go into it.
"I think about innovation and pushing boundaries with each dish. I want the produce to be the 'hero' on the plate, for the ingredients to speak for themselves and continue to source the best produce from bespoke local suppliers."

Head Chef Kihoon Kim is a talented addition to the team, and whose introduction to cuisine began as a young boy in Korea. His foodie father took him to various restaurants, and Kihoon was particularly interested in one sushi chef who prepared and plated meals right in front of them.
After years of catching and cooking his own fish and learning to cook in his spare time, Kihoon began work as a Japanese restaurant chef.
"After graduating from high school, I worked at a Japanese restaurant in my hometown of Daegu for 5 years, and studied the basics of French cuisine at a culinary school in Seoul. After graduated, I worked in a fine dining restaurant, spending most of my time in the seafood part. A few years later, I got a chance and worked with several Japanese chefs at a Japanese restaurant, Gohan, in Dubai, where I learned the basics of kaiseki recipes with Omakase."
Eventually Kihoon landed in Sydney, and began work as a Senior Sous Chef at 6HEAD. And the rest is history.
"I've always been proud to say that I'm the first chef at 6HEAD with Chef Sean Hall. I also feel a growing sense of pride as part of the team at 6HEAD, one of the best restaurants that I and my team have built together."
When it comes to preparing food, Kihoon always tries to use seasonal ingredients, and to allow the original taste of the main ingredients to shine through rather than drown them out with seasonings and additional flavours.
"In addition, I am trying to put a variety of textures on one plate as simply as possible."
He finds inspiration in fresh produce markets, combining what's on offer with what he would want to eat to add direction to the menu.
And as for what makes Australian cuisine special, it's all about the country's unique placement in the world.
"Australia's vast and clean land and various ingredients can be obtained from the sea, so it's a perfect environment for a chef. Also, as one of the largest food service markets, experiencing food culture from various countries around the world is a good stimulus."