TUESDAY | 14th February 2024 | Spoil your loved one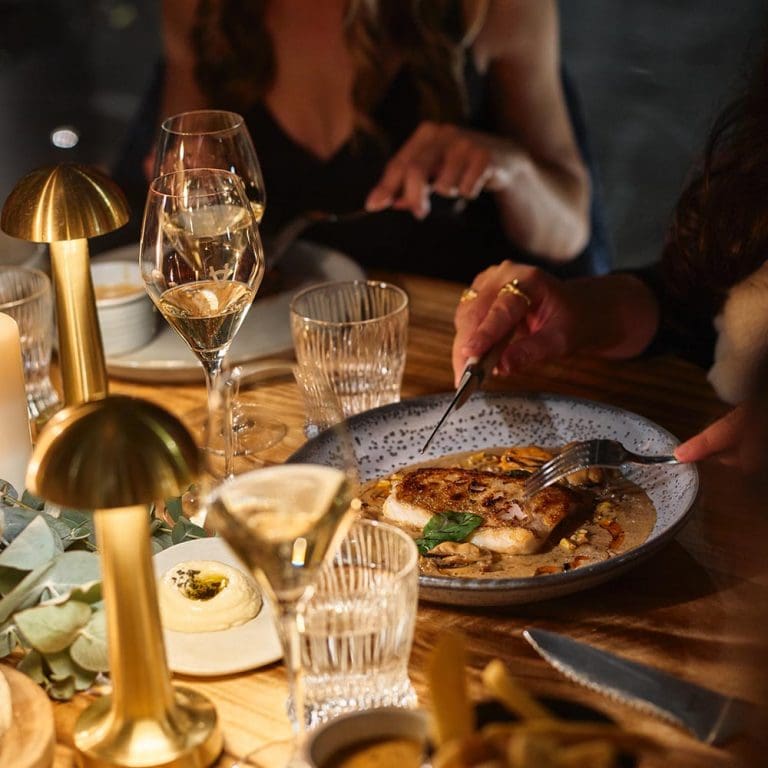 Valentine's Day is the one day of the year to be over-the-top and romantic.
It's the day to woo your loved one, whether you've been together just a handful of months, if you're newly weds, or if you're celebrating 50 years of wedded bliss.
For those unsure about Valentine's Day ideas, you can never go wrong with one of the most romantic restaurants in Australia, 6HEAD.
Show you the love with our special Valentine's Day dinner. Here's what you can expect for Valentine's Day 2024 with 6HEAD.
Optional Wine Pairing +$90pp

Champagne Lallier | Grand  Rose Brut NV | Ay, France
House made roasted capsicum and burnt chilli focaccia
Mayura bresaola with pickled green chilli
Torched bonito, salt-baked pineapple, pickled baby fennel, wasabi and watercress emulsion, burnt chilli
Optional Wine Pairing:
2021 / Tiefenbrunner 'Merus' / Pinot Grigio / Alto Adige, Italy
4 day dry-aged miso-glazed cod, nori, charred cauliflower puree, pickled shimeji mushroom
Optional Wine Pairing:
2021 / Vasse Felix Premier / Chardonnay / Margaret River, Western Australia, Australia
Mayura rump eye medallion (200g), spinach and leek puree, Bordelaise sauce, mash
Optional Wine Pairing:
2017 / Hutton Vale Farm / Cabernet Sauvignon / Eden Valley, South Australia, Australia
Strawberry mousse, pistachio dacquoise, basil oil, burnt white chocolate, berry sorbet
Optional Wine Pairing:
2021 / Frogmore Creek / Iced Riesling / Tasmania, Australia
Selection of today's petit fours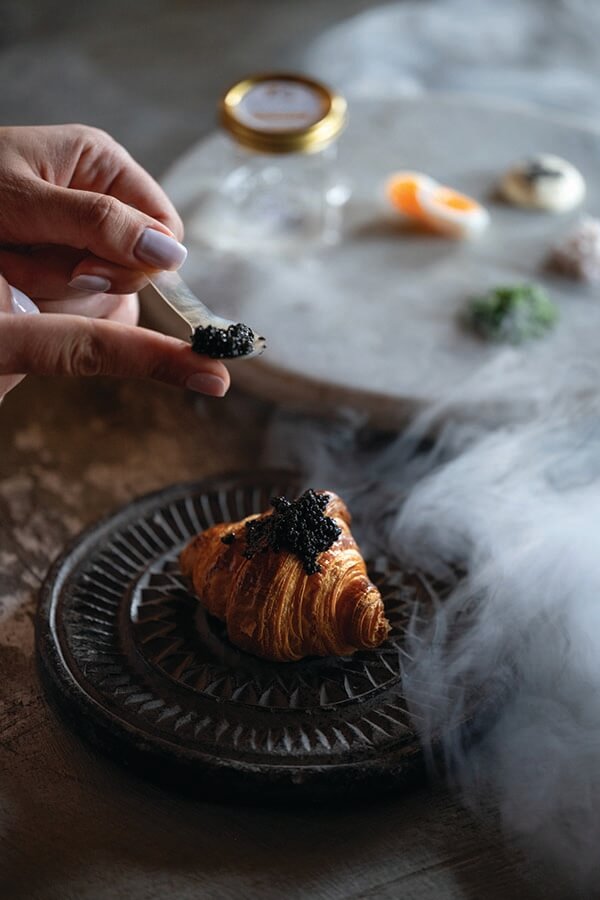 The most romantic Valentine's restaurant
6HEAD is committed to creating the most romantic atmosphere for any Valentine's Day dinner in Sydney & Perth. In addition to our chic dining area and premium furnishings, our restaurant offers unsurpassed views to fully complete the romantic experience.
Our enviable location in Circular Quay & Elizabeth Quay makes us one of the best romantic restaurants in Australia. In Sydney you and your date will be able to soak in uninterrupted views of the Opera House & Harbour Bridge. In Perth, you are spoilt with the beautiful Swan River. Your special someone will cherish memories of Valentine's Day 2024 at 6HEAD long after dessert is served!
6HEAD is exclusive to Sydney & Perth, so if you're new to 6HEAD, there are only a few basics to know before you visit.
We are a Modern-Australian steak restaurant, yet our meals are elevated far above the typical expectation those words might create. Our menu also offers an array of the freshest seafood in Sydney & Perth, so there's something for everyone to enjoy.
We use fresh, seasonal ingredients and cutting-edge culinary techniques to create a magical guest experience, whether you're looking for a romantic date night, or a simply exquisite meal any night of the week.
Executive Chef Sean Hall is an award-winning genius when it comes to planning and preparing meals, and his curated menu is paired elegantly with a hand-selected collection of local and international wines.
Ready for romance? Make your booking with 6HEAD to spend this Valentine's Day with your other half in one of the most romantic restaurants in Sydney and Perth.
If you have any personal requests that would help make your Valentine's Day special, don't hesitate to get in touch and we will do what we can to make it a night as memorable as it is romantic.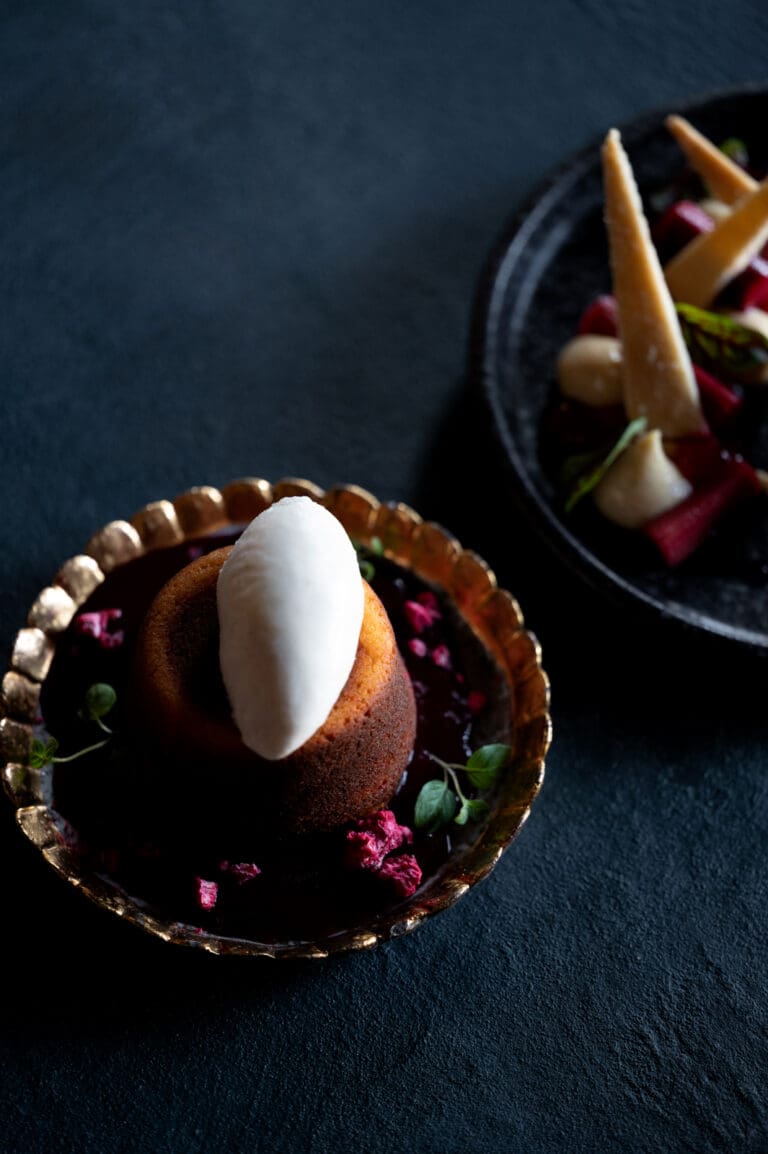 If your reservation has been made for the first seating between 5.30pm and 6.30pm, there is a strict 2 hour seating duration. For reservations made for the second seating at 8.30pm and later, there is no time restriction. Your card will immediately be charged for the set menu price of $220 per person (and if selected, the wine pairing price of $90 per person) as a deposit to secure your Valentine's Day reservation. This amount is redeemable against the bill at the conclusion of your experience.
For cancellations, a full refund (minus fees) will be granted up to and including Friday 9th February 2024. There will be no refund after that date. Please note, refunds are not automatically given upon cancellation of your booking – please contact us to obtain the refund.