 We are delighted to invite you to be a part of one of the most premium dining clubs in Australia: 6HEAD Club.

6 Head Club: Our exclusive restaurant loyalty program
As a cherished member of the 6 HEAD family, you will be the first to know about exclusive offers and receive the highest quality dining experience and service, all whilst enjoying the surrounds of our iconic waterfront dining venue in Sydney.
6 Head Club membership benefits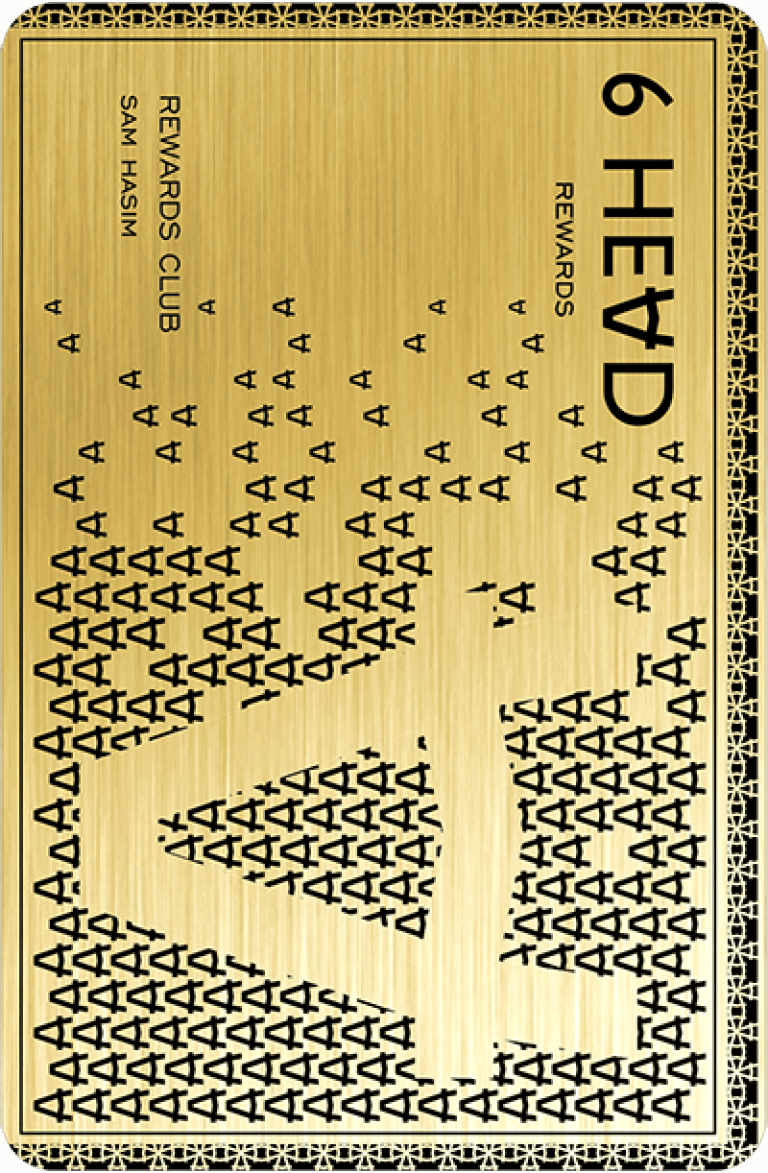 • 6Head Governor's Club •
Our Governor's Club is COMING SOON and offers a suite of exclusive benefits including a dedicated concierge service, one-off experiences, specially-curated menus, premium gifts and much more.
Get in touch if you'd like to discuss joining our exclusive 6 HEAD Governor's Club.
• Governor's Club Enquiry •

The Free Registration promotion for the Loyalty App/6HEAD Club waives the yearly reoccurring $250.00AUD member's fee until 31st JUN 2021. Join before and the fee is waived until the anniversary of your renewal.
On the anniversary of your membership a $250AUD membership fee will need to be purchased to continue using your member account.
Members who do not wish to purchase a membership; points and rewards will be locked the 1st day after your anniversary. Please ensure you use any remaining points/cash back rewards on your loyalty account BEFORE your yearly membership expires. Members who continues with their memberships will have full access to points and rewards.
Membership purchases during the free registration period will exclude complimentary birthday gifts and additional promotional items which come with full paying memberships.
Full paying memberships including member's purchasing memberships after the free trial period will include a $50 birthday gift credit in your account to be used in the "month" of your birthday each year of renewal. You also receive a $100 bottle of wine gift credit on your account each year of renewal.
The 6HEAD Club ("Program") is available at all 6HEAD restaurants in Australia.
Participation in the Program is open to individuals with a unique mobile number and email and an Australian residential address.
Individuals can become 6HEAD Club Members ("Members") by downloading the official 6HEAD App ("App") for compatible smart phones and devices and following the prompts to register and activate the App. A mobile phone number verification process is in place. To become a verified member you must verify your mobile number by entering the verification code sent to you as a phone message. Only a verified member can redeem cash-back credits and loyalty points ("Rewards"). Unverified Members can still earn rewards via the App but cannot redeem until the account is verified.
Individuals under 18 years old must have parental/guardian approval to register for this Program and further, the parent/guardian of the individual must read and consent to these Terms and Conditions. Parents/guardians may be required by 6HEAD to enter into a further agreement as evidence of consent to the minor registering for this Program.
Upon verification an Account will be created for the Member. Verified Members who initially became a Member with a physical membership card, will also be able to associate the existing membership card to the App account once they complete the App registration, this will enable them to accrue and redeem Rewards via the App. The Program allows one physical card (including loyalty cards and gift cards) to be linked to the App account maximum, please contact info@6head.com.au if you have any issue with linking the cards.
There is a strict limit of one (1) registered Account per Member/person. Each account requires an independent mobile number that needs to be verified.
Personal information 6HEAD uses is only to communicate with Members and to provide with offers that 6HEAD feels that Members may be interested in. 6HEAD is not responsible for any loss of 6HEAD Rewards or Benefits made available to Members in connection with any failure by you to notify 6HEAD of any change in your details. 6HEAD may require acceptable proof in relation to any change of details. Changes can be made directly via the App or by contacting the 6HEAD Customer Service Team.
Where redeeming Rewards at 6HEAD, Verified Members must have enough Points/Rewards to redeem against the full value of any items. Rewards are redeemed by presenting an App barcode associated with a verified account at the time of purchase. For Rewards, redemptions made in accordance with this clause, alternative payment methods should be used for purchase of other items not covered by Rewards redemption.
Until otherwise advised by 6HEAD, 6HEAD membership is tiered according to your spend and interaction with 6HEAD every consecutive period of twelve (12) month.
Until otherwise advised by 6HEAD, each Tiered membership entitles you to a different cash-back rewards percentage points. 6HEAD club is 10% cash back rewards.
All accrued Rewards & Entitlements will lapse if a member has not redeemed the Rewards within a period of twelve months from date of transaction. 6HEAD will automatically deduct and invalidate Rewards from such an Account after every consecutive period of 12 months, with any accrued Rewards and other entitlements being forfeited. For example, you have earned $5 and 1000 points on 03/08/2017, if they are not redeemed before 03/08/2018, our system will automatically expire them and remove them from your account. For the avoidance of doubt, the Account will not be terminated and the Member will retain their Account even after their Rewards expire.
The Rewards balances and special offers under this Program are not transferable, exchangeable or redeemable for cash. Rewards accrued in multiple Accounts cannot be merged.
The Rewards will not be accumulated and can not be redeemed in respect of any purchases made through a third party delivery service or other items nominated or other goods or services nominated in these Terms and Conditions by 6HEAD from time to time.
It is each Member's responsibility to ensure that the correct Rewards have been added or deducted for each eligible transaction. Individuals must notify 6HEAD of any apparent discrepancy as soon as possible by contacting info@ribsandburgers.com. 6HEAD will not be able to add any missing Rewards related to transactions where a membership was not scanned by a Member.
6HEAD is not liable for any unauthorised use of a Member's account, Rewards, username or password by third parties, nor is it liable for unauthorised use of a reward code sent to a Member.
No fees will be charged by 6HEAD for the issue, registration, activation or use of the App. Members are responsible for any costs charged by their service provider for Internet access to use the App or access the Program website.
6HEAD reserves the right, at any time, to verify the validity of Members, registrations, verification of accounts, and Rewards accrual and redemption (including a Member's identity, age and place of residence) and reserves the right, in its sole discretion, to disqualify any Member who 6HEAD has reason to believe has breached any of these Terms and Conditions, tampered with the registration, Rewards accrual/redemption and/or account verification process or engaged in any unlawful or other improper misconduct calculated to jeopardise fair and proper conduct of the Program. Errors and omissions may be accepted at 6HEAD' discretion. Failure by 6HEAD to enforce any of its rights at any stage does not constitute a waiver of those rights. 6HEAD' legal rights to recover damages or other compensation from such an offender are reserved.
Incomplete or indecipherable Member registrations or Reward redemption may, at 6HEAD' discretion, be deemed ineligible for this Program or deemed invalid.
If there is a dispute as to the identity of a Member, 6HEAD reserves the right, in its sole discretion, to determine the identity of the Member.
Should a password be lost or forgotten, 6HEAD' verified Members should follow the reset password steps via the App, the password will then be sent to the nominated email address associated with the Account.
Additional rewards and entitlements may be offered at 6HEAD's absolute discretion.
6HEAD reserves the right and has absolute discretion to refuse a Butcher's Club membership should we believe that the use is unauthorised, fraudulent or otherwise unlawful.
6HEAD reserves the right, in its absolute discretion, to suspend your membership in the event that large credit load accumulate on your 6HEAD Club account pending investigation into the accumulation of that credit.
6HEAD may terminate your membership if it considers you have used your 6HEAD Club membership fraudulently or otherwise in contravention of these terms and conditions or the law generally.
6HEAD accepts no responsibility for any SMS, email or other mail not received by Members or for any delay in delivery due to technical disruptions or for any other reason.
6HEAD is not responsible for any incorrect or inaccurate information, either collected at the time you registered as a Member or during the course of your Membership, either caused by a 6HEAD employee in person or via phone or for any of the equipment or programming associated with or utilised in this service, or for any other technical error, or a combination thereof that may occur in the course of the administration of this service including any omission, interruption, deletion, defect, delay in operation or transmission, communications line or telephone, mobile or satellite network failure, theft or destruction or unauthorised access to or alteration of Member's contact details.
6HEAD reserves the right to remove credit incorrectly or accidentally added to the 6HEAD Club account, without notice to the Member.
6HEAD may offer special offers to some or all 6HEAD Club Members from time to time. These offers may include additional terms and conditions.
Some 6HEAD Club Members may be ineligible to redeem special offers because of their age or legal requirement. It is at 6HEAD' sole discretion whether to issue you with a special offer.
To redeem a special offer, you must go to a participating 6HEAD store and scan your 6HEAD membership. All special offer values are inclusive of GST where applicable and are quoted in Australian dollars.
6HEAD Club membership, special offers and discounts are non-transferable and are not redeemable for cash.
All special offers must be redeemed on the dates specified in the relevant additional terms and conditions.
All special offers are subject to availability, which may vary between 6HEAD stores. 6HEAD is not responsible if a special offer is not available on the day you come to redeem your special offer and you must release 6HEAD, its related entities, franchisees and store operators from any claim and from all liability arising out of your inability to redeem such special offers.
6HEAD is not liable for any damage whatsoever which is suffered (including but not limited to consequential loss) or for personal injury which is suffered or sustained, in connection with membership of the 6HEAD Club or with any of the special offers, except for any liability which cannot be excluded by law.
In all matters, all decisions of 6HEAD with respect to the Butcher's Club and any membership thereof will be final and cannot be contested and the Member hereby agrees to accept such decisions.
If for any reason this service is not capable of running as planned, including but not limited to infection by computer virus, bugs, tampering, unauthorised intervention or any other causes beyond the control of 6HEAD which corrupts or affects the administration security, fairness, integrity or proper conduct of this service, 6HEAD reserves the right at its sole discretion to cancel, terminate, modify or suspend the 6HEAD Club.
Members must not provide false or misleading information to 6HEAD and must not alter, reproduce, disclose or in any way interfere with the details of other Members. 6HEAD reserves the right at its sole discretion to disqualify or suspend and /or delete any credits or entitlements accrued by any Member who does not comply with these Terms & Conditions and may do so without notice to that Member.
If for any reason the Program is inoperable (including but not limited to computer virus, bugs, tampering, unauthorised intervention, fraud, and technical failures), 6HEAD reserves the right in its sole discretion to disqualify any individual who tampers with 6HEAD' systems, and to cancel, terminate, modify or suspend the Program. This includes causes beyond the control of 6HEAD which corrupts or affects the administration security, fairness, integrity or proper conduct of this Program.
6HEAD reserves the right to alter the Terms and Conditions of the Program without prior notice. This Program, including any offer or promotion conducted under the Program, will continue until such time it is terminated by 6HEAD. Should the Program be suspended, cancelled or altered at any time 6HEAD will notify Members via email or the relevant section of the 6HEAD website.
The cancellation, use and disclosure of personal information is governed by 6HEAD Privacy Policy. You hereby authorise 6HEAD to disclose your information to franchisees or related companies of 6HEAD and to other parties for the sole purpose of operating and maintaining the 6HEAD Club.