What happens when two talented chefs come together to create an extraordinary dish at Sydney's premium waterfront steakhouse in Circular Quay? A classic and glorious dish appears.
6HEAD's Lamb Tartare
While grilled steak is the centrepiece at 6HEAD, Head of Food Culinary, Sean Hall & 6HEAD Head Chef, Scott Greve, always explore other ways to celebrate proteins and address guest's preferences and discerning tastes.
Due to popular demand, Hall & Greve decided to re-introduce the world renowned Lamb Tartare to continuously elevate the food offering, whilst simultaneously creating constant varieties of speciality dishes.
Hall comments, "Something truly glorious occurs when I see guests enjoy quality raw meat, that's done properly. The Lamb Tartare is a decadent delicacy and perfect starter to create a grandiose experience".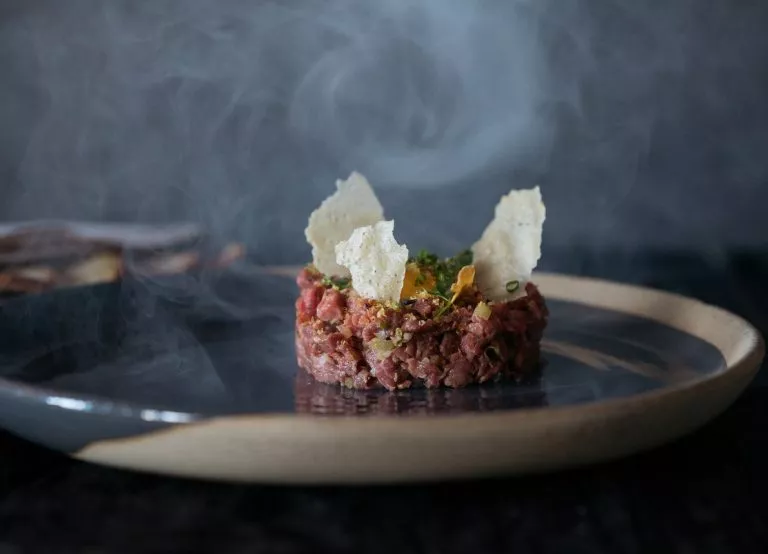 6HEAD's style of the Lamb Tartare is unique to the brand, and a play of the traditional French classic version. For best results, the raw meat must be mild and of the highest quality to ensure succulence and taste. In light of this, Hall & Greve sourced top grade premium white lamb from the Blue Mountains. They finely cut the lamb by hand, followed by tossing diced gherkins, eschallots and capers for tartness. The lamb is then drizzled with pure basil and olive oil, topped with in house fermented chilli oil, and delicately garnished with Parmesan curd, replacing the standard gooey egg yolk.
The innovative dish is beautifully seasoned with sea salt and grounded pepper, making 6HEAD Lamb Tartare worth the visit.
Greve recommends guests to 'Pairing the Lamb Tartare with a fine wine to match, such as the Tarrawarra 'Reserve' from Yara Valley for an unctuous starter and food experience".
For a dish very well balanced, silky, fresh and bursting with flavours, for any occasion, any mood, the Lamb Tartare is the perfect choice, dazzling guests all the time, even for the raw meat conservative.
To meet 6HEAD chefs and appease your taste buds, we welcome you to our world class harbourside restaurant that that delivers a variety of seasonal, uncomplicated food experiences that will remain etched in peoples mind.