Australia is known as the Lucky Country, and any seafood lover would argue that our immense coastlines only add to our fortunes.
By being surrounded by the ocean and close to a huge variety of sea life, we have some of the best seafood in the world right at our fingertips.
And perhaps nowhere more so than Sydney, where fresh, high quality seafood meets world-class chefs and restaurants to serve exceptional dishes straight from the ocean.
So where can you find the best seafood in Sydney? And of all the Sydney seafood restaurants, who can claim the title of being the very best?
The best seafood restaurants in Sydney
Sydney is a smorgasbord of fantastic seafood, and while it is impossible to choose the very best seafood restaurant in Sydney, here are our top picks.
Sydney Cove Oyster Bar: This harbourside restaurant doesn't just offer fresh, incredible oysters, it also promises a spectacular view of the waterfront. You'll also find a variety of seafood options on the menu here, such as caviar, lobster, and crab.
Masuya Japanese Seafood Restaurant: Few countries do seafood as well as the Japanese, and this restaurant adds an international flair to its seafood dishes, preparing and presenting our favourite treats in new and interesting ways. Try the bluefin tuna for something special.
Saint Peter: This restaurant focuses on one thing and one thing only – seafood. The menu is constantly changing, offering only the freshest seafood in delightful ways you've likely never seen before.
6HEAD: Don't be fooled by our steak restaurant reputation – our seafood is every bit as delicious. From calamari and lobster tail to caviar and seared king prawns, the seafood lover will feel very much at home at 6HEAD.
Sydney's favourite seafoods
There is an almost endless array of seafood options you can try in Sydney. The best seafood platter in Sydney might offer a range of them in one go, but it's likely you'll need to make a habit of ordering seafood in order to try them all.
Here are some of the most popular options you'll find in seafood restaurants in the Sydney CBD.
Prawns: Prawns are perhaps Australia's most iconic seafood dish. Perfect as a starter or as part of a main, this tasty and light treat is as dynamic as it is delicious.
Salmon: Salmon – especially atlantic salmon – is hard to go past on any menu, let alone one at a seafood restaurant. This rich and oily fish is fantastic for you, and can be served in any number of ways, each more decadent than the last.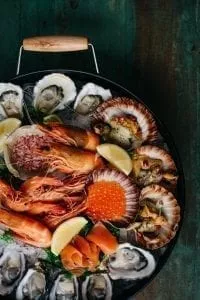 Oysters: Happiness is only ever a dozen oysters and a glass of champagne away. These divine gems of the ocean are the perfect way to start any evening.
Farmed barramundi: Farmed barramundi are particularly popular around Australia as they are farmed locally. This buttery, flaky white fish is hugely versatile and beautifully oily.
Wild tuna: A favourite amongst sushi fans, wild tuna is a beautiful fish that carries a powerful flavour profile and pairs well with a huge range of other ingredients. Cooked or raw, with few seasonings and additional flavours or many, tuna is an easy crowd-pleaser every time.
6HEAD: Not just a steak restaurant

6HEAD specialises in steak and seafood, meaning that no matter your tastes, you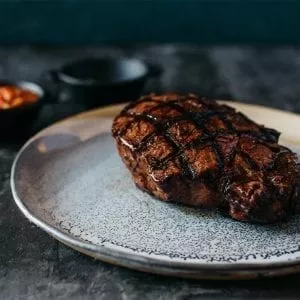 will find something on the menu to fall in love with.
From the lobster and prawn ravioli to the Kingfish ceviche and premium beluga caviar, we think we might just be the best seafood restaurant in Sydney.
Make a booking at 6HEAD to try for yourself.